Editorial Team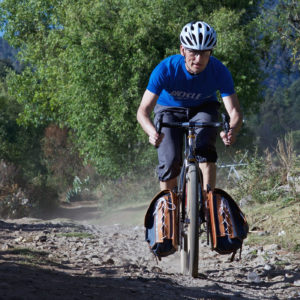 Jan Heine
Editor in Chief
When growing up, Jan wistfully watched groups of racers glide by his house. He later fulfilled his dream of racing bicycles on the road and in cyclocross. Soon he began to explore the backroads of the Cascade Mountains on his training rides.
In between rides and races, he somehow managed to complete his Ph.D. in climate change. Some might say that his NASA fellowship was not really intended to free him up to ride more, but Jan published enough articles in prestigious scientific journals to keep everybody happy. Having honed his skills as a technical writer, Jan started Bicycle Quarterly in 2002. Is he fortunate for having made his passion into his work, or unlucky for never having any time off?
Jan's books:
The Golden Age of Handbuilt Bicycles
Natsuko Hirose
Editor
Natsuko started cyclotouring when she was a student at Musashino Art University in Tokyo: She organized a month-long summer trip to Hokkaido. In preparation for this trip, she took a part-time job to pay for her first custom bicycle. Natsuko edited magazines and books about architecture and crafts before joining Bicycle Quarterly. She enjoys cyclotouring in the mountains, where she loves to discover beautiful places. Natsuko also is our resident expert on Rinko, the Japanese art of bicycle packing for travel.
Mark Vande Kamp
Research and Bike Testing
Mark Vande Kamp is the second Ph.D. among our contributors. As a social psychologist with a minor in statistics, he is our go-to guy for data analyses and reviews of test protocols. He also is a keen rider who continues to surprise us. Whether he trains or not, there aren't many who can shake him off their wheel, whether uphill or down. When he is not plotting a new unpaved route through the Cascade Mountains, Mark works in Seattle as a senior research and data analyst.
Lael Wilcox
Writer
Lael Wilcox is an ultra-endurance cyclist from Alaska. She dreams in long distance – imagining terrain and experiences. Lael is both motivated to push herself to her personal limits and encourage others, specifically women and girls, to get out and ride. She is currently working on a video about a riding project she completed in 2017, when she rode all of the major roads in Alaska (4,500 miles). The main idea is to inspire people to begin adventures from home.
Rugile Kaladyte
Photography
Originally from Chicago, Rugile (Rue) Kaladyte worked as a staff photographer/videographer for Alaska's largest newspaper before pursuing a freelance career in story-driven media projects. In 2020, she partnered with Conservation International and Bikepacking.com to create a route in Colombia to highlight the Paramos and a conservation corridor. She raced on the road during college in Upstate New York before first strapping bags to her bike just over three years ago – she prefers the latter.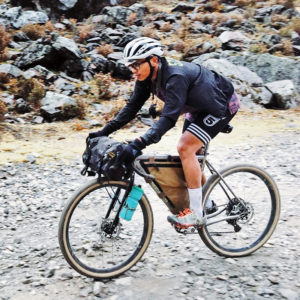 Donalrey Nieva
Photography
Donalrey Nieva is a photographer, cyclist, and adventurer. He has called Brooklyn his home for over a decade, but he was born in the Philippines and grew up in Las Vegas. His passion for both photography and cycling has allowed him to explore the world by bike, beautifully documenting his journeys along the way—from bikepacking in Sri Lanka and Peru to exploring the páramos of Colombia on the world's longest climb, Alto de Letras. His work can be seen in numerous publications and in brand campaigns in the cycling industry. When he's not out exploring with his bike, he's usually scouring maps to plot the next adventure.