Editorial Team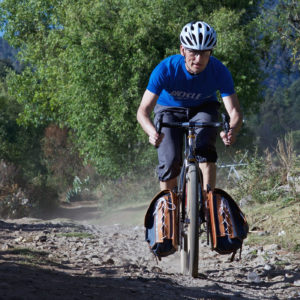 Jan Heine
Editor in Chief
When growing up in Germany, Jan wistfully watched groups of racers glide by his family's house. Upon coming to the United States, he fulfilled his dream of racing bicycles on the road and in cyclocross. Soon he began to explore the backroads of the Cascade Mountains on his training rides.
In between rides and races, he somehow managed to complete his Ph.D. in climate change. Some might say that his NASA fellowship was not really intended to free him up to ride more, but Jan published enough articles in prestigious scientific journals to keep everybody happy. Having honed his writing skills as a technical writer and translator, Jan started Bicycle Quarterly in 2002. Is he fortunate for having made his passion into his work, or unlucky for never having any time off?
Jan's books:
Natsuko Hirose
Editor
Natsuko started cyclotouring when she was a student at Musashino Art University in Tokyo: She organized a month-long summer trip to Hokkaido. In preparation for this trip, she took a part-time job to pay for her first custom bicycle. Natsuko edited magazines and books about architecture and crafts before joining Bicycle Quarterly. She enjoys cyclotouring in the mountains, where she loves to discover beautiful places. Natsuko also is our resident expert on Rinko, the Japanese art of bicycle packing for travel.
Click here to read Natsuko's blog (in Japanese).
Hahn Rossman
Testing and Fabrication
Originally from Philadelphia, Hahn Rossman's creative journey as an artist has included colleges, bike shops, foundries and workshops in New York State, Detroit, New Mexico, Los Angeles and now Seattle. Today, Hahn runs a metal fabrication business in Seattle, where he designs and fabricates projects for other artists, architects and designers. On the side, he builds custom bicycles. Or maybe he builds custom bicycles and does metal fabrication on the side. For Bicycle Quarterly, Hahn tests bikes and builds testing equipment.
Mark Vande Kamp
Research and Bike Testing
Mark Vande Kamp is the second Ph.D. among our contributors. As a social psychologist with a minor in statistics, he is our go-to guy for data analyses and reviews of test protocols. He also is a keen rider who continues to surprise us. Whether he trains or not, there aren't many who can shake him off their wheel, whether uphill or down. When he is not plotting a new unpaved route through the Cascade Mountains, Mark works for the Port of Seattle as a senior research and data analyst.
Raymond Henry
History
Raymond Henry has experienced the glory days of French cyclotouring first-hand. He has completed Paris-Brest-Paris, the Tour de France Randonneur and all nine Diagonales of France. Living in Provence, he became enthralled with the life of Vélocio, the founder of the cyclotouring movement. In his research, Raymond Henry has met the friends of the "apostle of cyclotourism" and assembled an incredible library of historic photos, letters and documents. For Bicycle Quarterly, he writes and reviews articles on cycling history and provides research assistance.